At RHC we have the privilege of working with many strong and powerful women. This group of women most certainly includes the Kekeli women, as well as those on our board, our executive team, both in the USA and Ghana, and many of you, our supporters. We want to thank you all for being the mighty, forward-thinking, loving, and supportive people you are.
Today we would love to introduce you to a specific woman and highlight her incredible talent and generosity! Holly J. Kroening has been painting since 2003 and has been making African-themed art since 2008. Holly says, "I paint subject matter that speaks to me. My children have invested their lives in Africa and painting something that represents that investment brings me joy and fulfillment." She expresses herself through the mediums of watercolor, acrylic, and fabric art. She works on her watercolor pieces, one at a time, 2-3 hours a day, from one day up to three months. Her fabric art takes longer due to the amount of detail involved. All mediums include African-themed scenes.
Holly's favorite artwork to create is that of "women that represent strength and joy." In 2008, when she began painting these women, it was just meant to be fun. In fact, she never thought it would take off the way it has. She also used these female figures of strength to get through sad days, to get lost in her thoughts, as her parents had just passed away. These women are more than just color on paper. They are a beautiful representation of the strength and vibrancy found in women everywhere.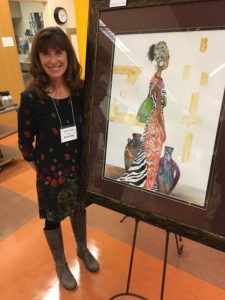 Holly believes in paying it forward, and through her artistic talent she is able to sell pieces and donate much of the profits to RHC. There are many personal things that influence Holly's thoughtful paintings, and we're extremely proud to be a part of the inspiration for such beautiful art. "Jason and Olivia have shown my husband and I that when we 'can', we 'should'. We believe in the grassroots work RHC is doing, and I feel my talent can make a difference in this work." We think so too, Holly!
Holly's art can be found at fineartamerica.com. Take a look and see if these women (or any of Holly's pieces) speak to you. She also paints on commission. You may contact the artist at hjkroening@gmail.com or 503-722-1523.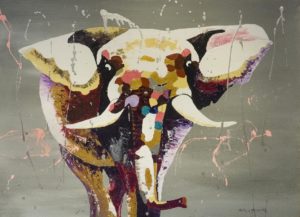 "Mighty" 36×45 acrylic